The Funeral Home and Family Centre Gallery
We'd be pleased to give you a tour. Call at (519) 542-5541, to arrange one today.
We Put Our Families First.
At Smith Funeral Home, you are our first priority. Through our services and support we strive to provide the trust, reliability, and comfort you expect and deserve.
Smith Funeral Home and Family Centre offers a complete range of services and products to serve your family in this time of need.
From documentation to disposition, we will strive to fulfill all and any requests to achieve our promise that your needs come first, and that you will receive the trust, reliability and comfort you expect.
To request our full list of services, or to find out more, click on the button below or simply call us at (519) 542-5541.
Let Our Family Help Yours.
We are all working hard to provide unique and personal services to our families with the highest level of care and compassion.
Smith Funeral Home and Family Centre has
provided comfort and compassion to this
community for over 35 years and we continue
to strive for better ways to provide the service
you deserve. The warm atmosphere and
tasteful décor allow our families to feel at home
the minute they walk through the door.

FAMILY CENTRE
Allows for gatherings of large groups.

OUR HISTORY
For over 30 years, our family has served your family.

OUR MENU
Lunch and dinner options are available.
Big or Small. We Have What You Need.
Whatever your situation, we have options. We will help you choose which services are best for you, so that what you are planning for happens just the way you want it.
Our Family Centre sets us apart from other funeral homes.
This facility can comfortably hold up to 200 people, and we will do everything we can to accommodate any unique requests or dietary restrictions. Please be aware that we are not a nut-free environment.
It's the Right Thing to Do. For Your Family.
Don't leave someone else to arrange things alone. Take control and make your decisions now. It's your opportunity to help your family when you are no longer there to help them. Speak to one of our funeral directors.
Address personal wishes and lift the burden from your family by making your decisions ahead of time. Give yourself peace of mind. Don't leave others to make decisions alone, help your family one more time by planning ahead.
Prepare for the future by completing the online pre-planning form below or find out more by giving us a call at
(519) 542-5541
Want to plan in your own time?
Download our checklists and find out what you need to be totally prepared.
As a family owned and operated business, we have built our reputation by always putting the families we serve first.
As a family-run operation, Smith Funeral Home
and Family Centre wants nothing more than to
serve the families of Sarnia and surrounding
areas. We are dedicated to honouring and
celebrating the lives of those in our community,
by providing the most dignified and fulfilling
funeral services and supporting their loved
ones through this part of the grieving process.
We could not provide the service we do without these incredible professionals.
Take a virtual tour of the Smith Funeral Home and Family Centre Facilities.
Are you having a difficult time? Check out the links below and find resources to help you in your period of grief.
1576 London Line, Sarnia, Ontario,
CANADA N7T 7H2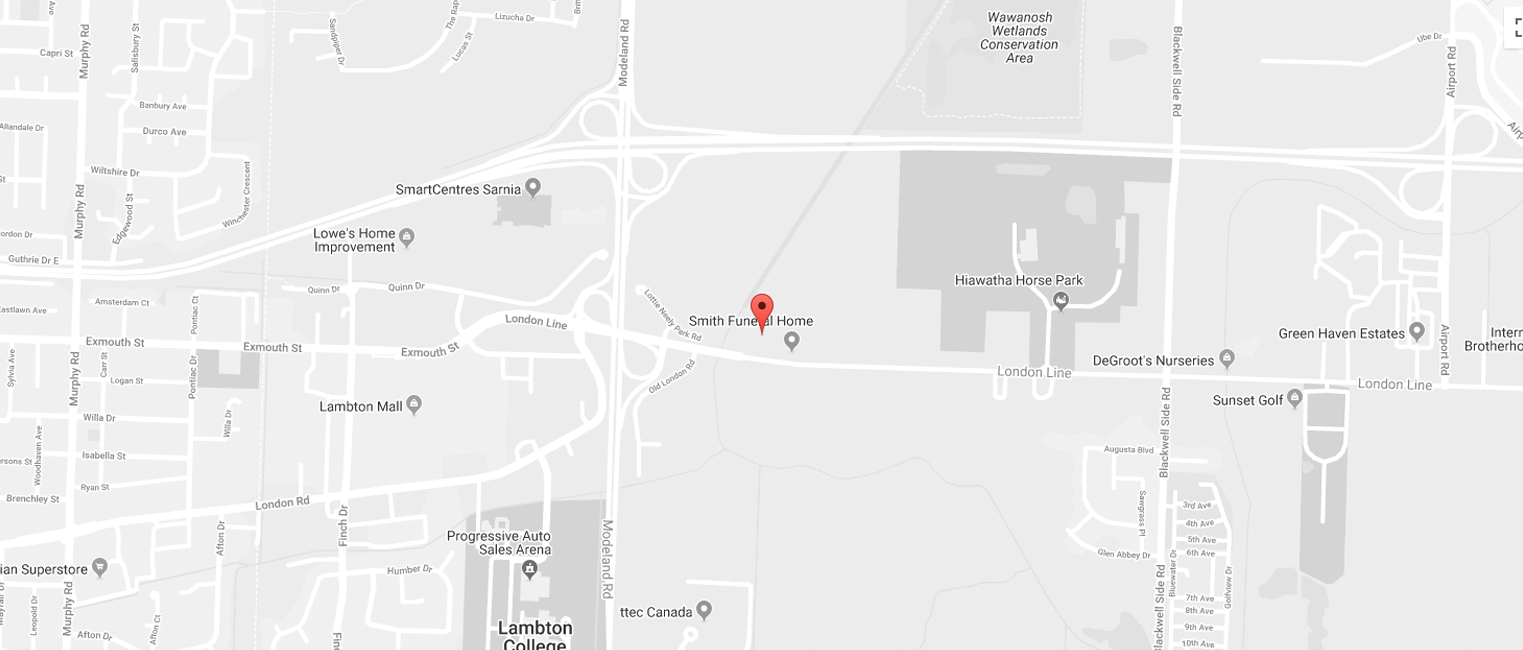 Smith Funeral Home and Family Centre is here for you and your family. Anytime you need us, 24 hours a day, 365 days a year, we will help. No matter the situation, our family is ready to serve yours.
Please feel free to contact us by phone, 24 hours a day, at
(519) 542-5541
Office Hours
Mon to Fri: 830 – 5
Saturday: 830 – 4
Sunday: 9 – 4
1576 London Line, Sarnia, Ontario
CANADA N7T 7H2
Phone: (519) 542-5541
Fax: (519) 542-5542
smithfuneralhome@cogeco.net